Scott-McBride Family

Does anyone know the ancestry of Lillie Lewis? She married Doc Franklin Scott.

Martha Jane Scott was the daughter of Lillie Lewis and Doc Franklin Scott. She married Charles Brunk McBride who is pictured with her. Charles Brunk McBride was the son of George Henry McBride and Nancy Jane Livingston McBride. The two small girls in front are Fannie Ellen McBride (dark hair) and Martha Jean McBride (light hair). They went by the names Ellie and Jeanne.
Children of Charles B. McBride and Martha Jane Scott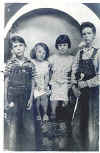 Left to right: George Franklin McBride, Martha Jean McBride, Fannie Ellen McBride, and Charles Howard McBride. George Henry McBride fought in the civil war in the 14th Indiana Infantry. George, Nancy, Charles, among others are buried at Pine Flat Cemetery in Cabool Mo.

Photos and Information submitted by: Virgie Morgan

---
Back to Index
---
©2007-2008 Rhonda Darnell