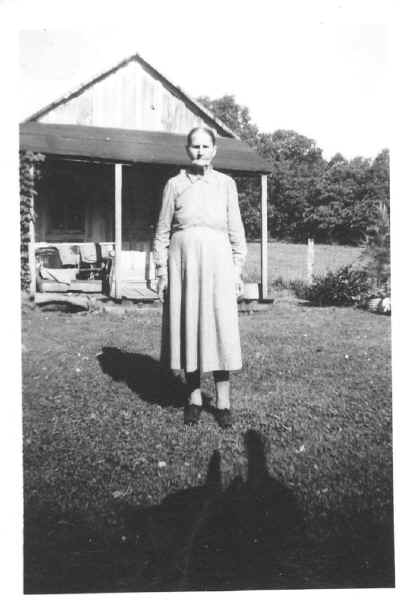 The following is the story of my g'grandmother, Mary Pittman. Mary was one of 14 children, born to Levi and Eliza Fletcher on 19 June, 1871 in Turley, Texas Co., MO, and would spend her entire life in Texas Co. within a few miles from where she was born. On 26 Sep. 1886 she married Clinton Richards who lived in Roubidoux which was near Turley. If you do the math, Mary had just turned 15 when she married Clinton at her fathers home. Their first baby arrived in July the following year and would be followed by five more in the years to come. About a month after the last baby was born in July 1899, Clinton died suddenly, in Aug. 1899. (Rumor has it that Clinton was on his way home one night in a pouring rain, having had a little too much to drink, got soaked and caught pneumonia and died.) Be that as it may, Mary suddenly found herself with six kids to raise. It's hard to imagine what she must have been feeling when confronted with that prospect.

There is no way of knowing what her life was like in the years following her husband's death but I'm sure she must have relied heavily on family for support. Then at some point she met the man who would become her second husband, a doctor named Jonathan Pittman who, it just so happened, had also lost his spouse and was left with 3 sons to raise. There's no way of knowing when this relationship developed but sometime around 1907 they were finally married. I say finally because it seems that Dr. Pittman didn't want anymore kids and Mary had six. I remember as a kid my mom telling a story about her grandmother and how she had to "give away" her kids so she could marry her future second husband. My mom had first hand knowledge of this because her mother was one of those kids who had to go. With the exception of the two oldest, who were old enough to go out on their own, Mary found homes for all but the youngest. Note: Her oldest son, Thomas, was the one who killed Homer Herring in Oct. 1959 as mentioned in the article "A Killing in Success".

Mary settled in as the wife of the local doctor on his place near Success. In the late forties, shortly after WWll, we went to visit a few times. Dr. Pittman had long since passed on, in June 1931. I recall the little house off to one side and in front of the main house that had been his medical office. That same little house still exists in Success, not too far from the general store, just down a ways and across the road. Mary and Jonathan(Doc) had one child, a daughter, named Elsie who was living there along with her half-brother Thomas when we visited in the 40's. Thomas was an alchoholic who, after he had to leave home, married a local girl and a few years later moved to Washington state. Apparently he was quite abusive so his wife kicked him out and he returned to Missouri and moved in with his mother. Elsie was already there after a failed marriage. This was Mary's life after her husband's death until that day in Oct. 1959 when her son Thomas shot a man to death.

Mary died in March 1960 at the age of 89, the same month her son was sent to prison. She is buried at Mt. Pisgah Cemetery next to her second husband, Jonathan Pittman. Her first husband, Clinton Richards, is buried in Liberty Cemetery next to his parents and one brother.