Len Wilson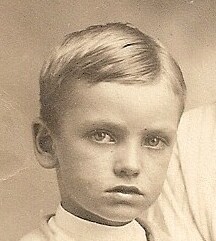 Sheriff Len Wilson, 56 of Licking, passed away at St. Johns Hospital in Springfield at 5:30 p.m., Monday, April 20, 1964. Death was attributed to complications from a heart attack suffered February 28. He was placed in the Texas County Memorial Hospital and was later taken to St. Johns Hospital. Services will be held at Boone Creek at 2 p.m. today. (Thursday)
Sheriff Wilson had completed eleven years as sheriff of Texas County, serving since 1952. Although most officials in Texas County are Democrats, many Democrats joined Republicans in electing him to the office each term. He was always ready to answer a call whether it was day or night. He or his wife, Helen, knew nearly everyone in this county and often carried Messages of emergencies to people who could not have otherwise received the message. He was conscientious about his service under the law and worked all hour to take care of his duties.
City officials of Licking, as I am sure, did other cities in the county, found him very cooperative at all times. No doubt but his long hours, and devotion to duty, brought about his illness.
Since Mr. Wilson's heart attack, his long-time deputy Earl Hurcheson has been running the department. Upon his death James L. Gentry, coroner, became the acting sheriff. The Texas County Court planned to meet at 10:00 a.m. Wednesday to select a successor as the law provides.
Sheriff Wilson was born September 8, 1907, and was the son of Mr. & Mrs. J. R. Wilson. He graduated from Licking High School in 1924 and for many years was a farmer. He also at one time was a Ford dealer and also later had an interest in an International Harvester agency. He also owned an airplane at one time which he flew himself. He was a member of the Licking Development Board and a director of the Peoples Savings Bank at the time of his death.
His wife, the former Helen Kissick, is a commerce teacher in Licking High School. He is also survived by a brother, Clark, of Taft, California. Funeral arrangements are under the direction of Smith & Ferguson Funeral Home of Licking.
Transcribed and contributed by Charlotte Stevens Schneider
---
Back to Index
---
©2007-2008 Rhonda Darnell