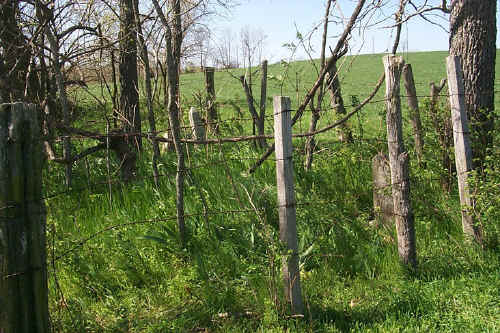 Kelly Family Cemetery
From Katherine Barber, contributor: Kelly Plot Cemetery is located in Upton Township, Texas Co., MO.
It's on a private farm and now has No Trespassing signs posted. Turn on a dirt road about a half mile north
of Huggins Post Office. The family story is that my great great grandfather Alexander Kelly was buried at the
lower edge of his garden. There are 3 grave stones there. The other two are his grandchildren. There was a space next to
Alexander that was vacant. It is assumed that it was left for the wife, Mary Jeanette "Polly" (Hinchcliff) Kelly.
But she moved to Nebraska with grown children, remarried (Marshall) and was buried at Oakdale Cemetery, Antelope Co., Nebraska.
Please note: This listing is complete.
This cemetery is no longer active.
SURNAME
Given NAME
BORN
DIED
COMMENT
Kelly
Alexander
29 Dec 1821
19 July 1885
"Farewell" Detail 1 Detail 2
"A loving husband, a father dear. A faithful friend lies buried here."
Kelly
Eda M.
26 Nov 1885
29 May 1886
dau of A.R. & M.J. Kelly
Ritchey
George A.
18 Sept 1887
4 May 1887
son of J.L. & S.A. Ritchey
---
Return to Cemetery Listing
Return to Index
---
©2007-2008 Rhonda Darnell